Classic TV Worth Watching: The Twilight Zone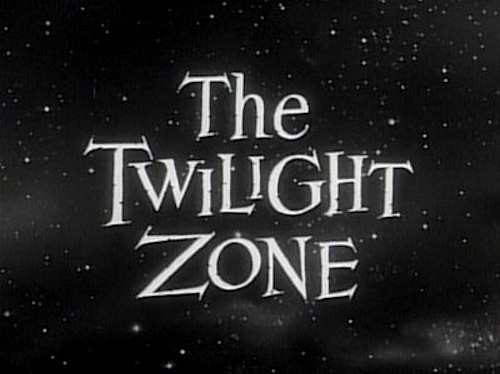 If you're like me you would await every New Year's Eve or Fourth of July for eager viewing of the Twilight Zone marathon on the WB network. That is, until the Syfy network grabbed the rights to it in recent years. Well for us Twilight Zone fans who don't have cable, this isn't an obstacle anymore. Netflix now has the whole original series in its instant-streaming library (you can read me gush more about Netflix at my respective blog).
For those of you who live under a rock and have never heard of the Twilight Zone, allow me to inform you. Before "The Outer Limits", before "Tales From The Darkside" and before HBO's "Tales From The Crypt" there was the original "Twilight Zone" series by Rod Serling. The Twilight Zone is an anthology series that presented self-contained episodes which delved into the mediums of the paranormal, mystery, supernatural, psychological thrillers, suspense and the whimsical. These stories usually ended with an unexpected or disturbing twist. They would also be infused with themes that would comment on social issues of the day (racism, war, society, government, etc.)
The Twilight Zone is such a well written show that it appeals to all audiences, from the big-thinker to one who just likes to watch a good story. Despite the fact that this series was done back in 1959, it still holds up to the test of time (something that isn't easy for most sci-fi shows). I can't gush enough about the skill of writing that was put into this production. The dialogue and exposition are so compelling in each episode that you're not fazed by the stylized acting of that time. Every human emotion of anguish, contempt, fear, anger etc., is so brilliantly displayed in each episode that you can't help but want to watch more.
For the Twilight Zone fans out there with a Netflix account, I tell you to rejoice! Add the series to your queue and re-watch some of your favorite tales and more. To those out there that have never had a chance to experience Rod Serling's brilliance, I tell you to stop dilly-dallying and immediately add TZ to your queue. You won't regret it.
Follow @juliofromny
Posted on May 26, 2011, in Television, Movies, & Anime and tagged fourth of july tv marathon, instant-streaming on netflix, mystery, netflix, netflix instant video, new years eve television marathon, paranormal, psychological thrillers, rod serling, supernatural, suspense, syfy network, tales from the crypt, the outer limits, The twilight zone, twilight zone marathon, twilight zone on netflix, whimsical. Bookmark the permalink. 35 Comments.